My name is Anthony Perez. I am a hard working, 27 years young, half Dominican-half Puerto Rican, from the Garden State (New Jersey), currently residing in the upstate of South Carolina. 7 days a week, I work many hours to not only be the responsible adult I am, but also fulfill my desires and dreams to travel. Growing up, I have had the privilege of traveling with my family back and forth to Puerto Rico, Virginia and Florida. My grandmother being a travel agent and a travel lover herself, inspired me to have the love for travel myself. In my final years of college, travel has become more and more of a priority to me as my life seemed to be more liberated without the pressures of class exams and homework.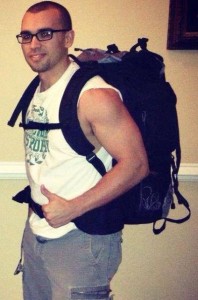 Since the day I walked across that stage with my bachelors degree in Web Design, I have slowly but successfully fulfilled my travel desires to new places several times a year. Reaching world travel goals has not been easy. I've lived through divorced parents, frequent unemployment, and long term depression. After years of saving, being closer with my family than ever, and fighting depression, I have finally reached happiness with the world and myself. With a few years of travel experience to 14 countries, I am currently preparing to travel the world for a yea documenting my experiences to inspire the world. Once dreams, now reality. If there is a will, there is a way. You want it, fight for it, and you will certainly have it.
This planet was made to be discovered over and over again by everyone. This page demonstrates how I evolved from a vacationer to a dedicated traveler and hopefully inspire you to get up, work your ass off, and reward yourself to discover new lifestyles and cultures. Travel not only makes you appreciate life but allows you to have a first hand perspective on how real life is around the globe. Life is short. The world is large. This is why I continue to desire creating  memories on new voyages each time I leave home. Happy Travels!