Everyone has a moment at some point in their life where you sit back, shut everything out, and think your life through as a whole. No judgement, no interruption, no feedback. Just you and your mind. This could be that moment where you grow up or simply become a better person. At first I thought this was silly but realistically this was a life turn around for me. I recently spoke to a good friend...
Read More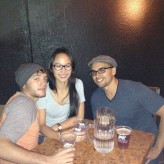 Traveling alone! Most people frown upon it as a sign of loneliness, a lack of fun, dangerous, or just plain out stupid. Everyone is surely entitled to there own opinions. One word I would like to generally tie to all of these responses is the word fear. Sure there is fear of loneliness or danger. Of course there is a fear of not enjoying ones self. I was once there. Typically, these mindsets...
Read More
Well, It has been a long 4 months since my last trip, of stress and frustration in my work and social life in the lovely state of South Carolina. Since my arrival back from Jamaica in early September, work has been hell and taken a nose dive into hell. But only shortly after my arrival from Jamaica, my next trip to the small isolated island of Bermuda was booked for right after the turn of the...
Read More