Crete: The Big Island of Greece
My 11 Days in Crete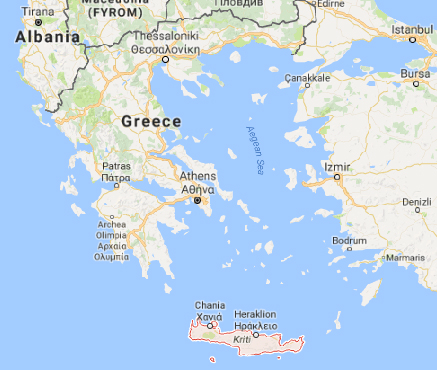 People like to deny it but Crete is just as much a Greek island like Santorini, Tinos, or Siros. Sure it's way larger than most of the islands which are smaller. But think of it like the island of Hawai'i in the Hawaiian island group, Crete is the BIG ISLAND. Crete is without a doubt an island of it's own, with it's own culture, dialect, and overall mindset. "For Christ sake, people in the villages have guns!", said my host in Iraklio.
I've spent a whole 2 – 3 weeks island hopping the Cyclades meeting a number of people who recommend that I stay way longer than just a few days. And that is exactly what I planned to do anyways. I stayed a total of 11 days and still was not long enough to see almost all of what Crete has to offer. But the time I did spend in Crete was absolutely incredible. I arrived in Heraklion after a short and quick ferry from Thira (Santorini). I was welcomed by a young female couchsurfer with open arms into her home along with her cat. Instead of 3 nights, I ended up staying four nights, spending time with some of her friends at the local beach, having massive gyros, endless plates of dinner and drinking bottomless Raki late at night. It's these moments and memories that makes Couchsurfing so amazing and so glad to have enjoyed some of this authenticity at my first city in Crete.
| | |
| --- | --- |
| | |
Crete is not only home to the traditional Greek drink, Raki, but also home to the beginning of Greek history, the Ancient Minoan culture. I made my way to the once massive Palace of Knossos, a archaeological site, I once dreamt of seeing up close and personally. I'm not a big fan of museums, but I fell in love with the archaelogical museum in the city having artifacts from Ancient Egypt, the Bronze age, up to the Roman age. I also made my way to the beautiful southern coast to the formerly hippy beach town of Matala for a nice swim and some body surfing.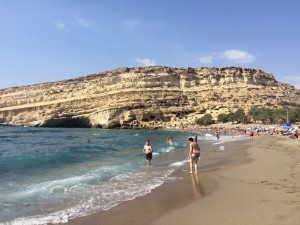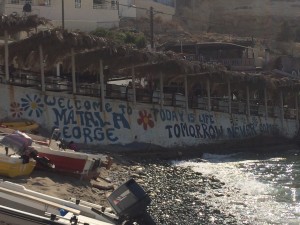 My plan in Crete was to try and hit each end of the island aside from the main port city. My next stop was the beautiful seaside town of Chania, a town I first discovered via the movie "Two Faces of January" in which was filmed. In my hostel, I met an older solo traveler who joined me on my venture around the beautiful Venetian town during and after sunset. The seaside is lined up with beautiful street lamps and restaurants, one of which we split the cost of a very nice dinner. Our server eventually did treat us to some more local wine and some more food. These dishes served were by far the most delicious I've ever had in my life.
| | |
| --- | --- |
| | |
Nearing 6 months of straight travel, I did find myself too tired to make any day trips, but did manage to enjoy some beach time within the town limits. I did however manage to slap myself in the face and have a bunkmate join me on a 7 hour hike down into the beautiful Samaria gorge in the southern part of the island.
Walking in the gorge makes one seem incredibly small as you are surrounded by incredibly high mountains. Once finished with a hike, you find yourself at the coast, and if you decide not to stay, a ferry awaits to take you to several nearby sea villages and eventually a boat to wherever you want to go.The southern coastline differs from the north as it is dramatically mountainous and jagged with steep cliffs.
After dealing with sore calves and barely waking up, my bunkmate decided to join me on my adventure to the east part of the island. This journey brought me to a very cheap furnished studio Airbnb in the quiet coastal town of Ierapetra, Crete's southeast. Opposite of Irakleio and Chania, this town was far more quiet and relaxing, perfect to take things slow, enjoying a nice dinner on the water with some Raki, checking out the local Venetian Fortress, and simple beach time.
| | |
| --- | --- |
| | |
An additional benefit of staying here which also was a suggestion made by several people in the Cyclades, was Chrissi island, a small island off the coast of Ierapetra. About an hour ferry ride from town is the southernmost national park in Europe riddled with beaches that resemble the Caribbean. Here was one of few times where I literally enjoyed the feeling of being on vacation away from the stresses of planning going back home, running out of money, and getting the most of my last week in Greece, and in Europe. Oh, I also practiced the dance from Zorba the Greek here. Kind of suitable eh?

Anywho, Crete has tons to offer locals and travelers alike. The big island of Greece, surely is one big island. With so much to do and see, you need a trip on it's own to fully get that 100% grasp of the culture. After all, it is completely different from the rest of Greece. While I've seen and experienced quite a bit on my journey, there is still so much more to experience. This is simply another reason why, a return to Greece, is a must.