Living A Dream: The Greek Islands
When people ask me why I am in Greece, my immediate response is "Why not?" When I give my second more serious response, I always truthfully say that I have always wanted to go to Greece since I was younger. All for it's beauty and it's ancient history, mythology, and stories. But while Greece has always been my number one destination since, always, island hopping the Greek Islands has been my number one dream. I can't remember when this dream started, but I know I wanted to do this since I was younger. While I enjoyed a whole 3 months backpacking the Balkans, I had been anticipating the Greek islands the most. This was a dream come true and no matter what dreams I shall fulfill in the future, this dream come true will forever be, the dream of dreams. Here are the islands I visited on my first trip to Greece in the order traveled followed by what I remember them by, and of course, my experiences.
Ionian Sea
Corfu (First Destination in Greece)
Corfu isn't just an ordinary island to me. Sure it's way more touristy than I anticipated. Sure there is tons of commercialism, for god knows what reason. This is my first Greek island. Hell, it's my first stepping ground into a country that has been my #1 dream. Corfu is the first destination in all the time I will spend in Greece. It officially has that mark. I will never forget the infinite flow of happiness running through me as I saw the island grow bigger and bigger on the horizon until I could see Corfu town in pure detail.
I arrived from Sarande, Albania via fast dolphin ferry with a newly made travel friend from New Zealand. We roamed around much of Corfu town which resembles a typical Venetian style town, considering it was part of the Venetian Republic. We split up and I made my way to Sidari town in the north where a cheap hostel awaited me. I was slightly late, but I made my way to the beach to catch a beautiful sunset over the island with the Albanian coastline in the distance. Sidari unfortunatley reminded me of a typical tourist town in the states, tons of souvenir shops, bars, and restaurants filled with people trying to get you to come in for overpriced items on the menu.
For my full day in Corfu, I decided to give hitchhiking a shot over to Paleokastritsa beach. If I didn't put out the thumb, I would have had to take a painful bus to Corfu town and another. No thanks. Fortunately, it worked out very well for me, and caught three rides to where I wanted. It was crowded with tourists but my god this place was insanely beautiful. Fortunately my Kiwi friend was also here and we hung out for a bit before hitchhiking back to our places.
In the end, Corfu is a very touristy and commercial island. But damnit, it's my first island and place in Greece, and that, that makes me excited for the journey ahead in the Hellenic Republic.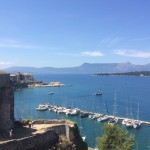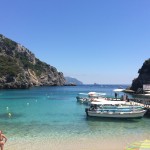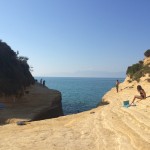 Paxos & Antipaxos (Most Beautiful Beaches)
Paxi, a small island directly south of Corfu is my absolute favorite island in Greece. When I say lucky, I mean I got extremely lucky to make it to Paxos, period. Becuase of my budget, Paxos seemed way too overpriced for me to stay for only two nights. Maybe booking a week in advanced would have helped, but 2 nights before certainly was not happening. With very little hope in couchsurfing, I still went ahead and messaged the only two partially active couchsurfers on the island. The night before I left Corfu, I decided that I was going to simply pass on Paxos and Antipaxos as much as I was really wanting to go, I just couldn't afford it.
Luck struck and before I headed to my hostel to pack, a lovely Greek woman, one of the two couchsurfers accepted my request and invited me into her home in the middle of Paxos. Being accepted by a couchsurfer is an incredible feeling. But this one, this was a feeling beyond anything I felt. The fact that I can be in a place I want to be, surfing with a local, and living an experience I almost walked away from. Now that is what I call amazing. I arrived by fast ferry from Corfu and was welcomed with open arms into my hosts home.
What was supposed to be only two nights turned into three. Paxos is without a doubt an island to slow down time and chill out. And I became prisoner to that mindset as I did exactly that. Her having zero wifi made that even better as I ventured far from the internet. In that time on Paxos, i walked through Longos, Gaios, as well as Lakka in the north where I met two incredible girls, one from the UK and the other from F.Y.R.O.M., drinking wine and watching incredible sunsets.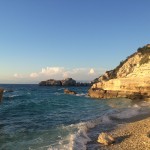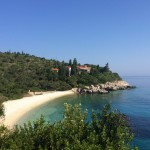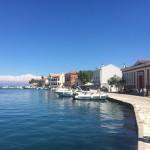 As for my day trip to Antipaxos, I've got to say, I've never been to a beach as beautiful as the one I swam in. The water was the clearest I have ever seen, it was quiet, and had the pleasure of swimming into my first cave with an Italian couple I became friends with on the beach. I'll be honest, as much as I had to continue on with my journey, I really wanted to stay for another week. It's such an incredible island, with an atmosphere that will force you to chill out. I will never ever forget this place and certainly hope to return. <3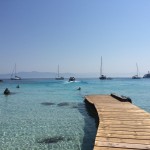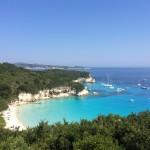 The Cyclades
Andros (1st Island in the Aegean Sea)
Arriving in Rafina, the port directly east of Athens, I hopped on board my first ferry in the Aegean sea. Although my first Greek islands were technically Corfu, Paxos, and Antipaxos, when I think the Greek Islands, I think of the Cyclades, Dodecanese and North Aegean Sea islands. I think of the ancient history and mythology I learned in school which took place on many of these islands. I think of the islands I will be on with the ability to see other islands on the horizon.
My dream came true on July 14, 2016 as I set off for Andros, an island I chose as my first based on the travel path that makes the most sense. Arriving in Gavrio port town, I walked around to take pictures in time for the next boat in order to catch the local bus to Batsi town, a town I discovered in a Greek Islands book, and also where I stayed. Although I had 3 to 4 hour sleep, I still dragged my zombie body to a local beach about 1.5 KM away and enjoyed a nice swim under the hot sun. I brough groceries with me to help with my spending and thankfully my hotel had a full kitchen. That evening, I grabbed a brew, drank, and swam under the sunset. I never had so much fun bouncing pebbles on the still sea water.
With a full day to enjoy the island, I decided to give hitchhiking a shot since I can't afford my own transport and buses are not so, awesome. According to the reception guy, hitchhiking is pretty good. I trusted his words, and gave it a shot walking to a gas station outside of town. The first car stopped and i rode with 4 Greek buddies trying to find a place to fish. They were amazing, and even if the English was litle, we connected and laughed the whole way along the beautiful coastline. Thankfully, I sat on the right window seat to take in the views of the sea. Since they had no defined plans, they chose to go fishing where I wanted to get dropped off. After sayng my goodbyes, I found myself in Ormos Korthiou, a small village on the south east end to walk to the beach I discovered in that book.
The beach is called Old Woman's Leap. Quite odd for a name and I'm sure it has a story, but this beach was incredible. It had many tourists, but the good thing, was that it was mainly Greek tourists, a handful of Italians, and one American…me. It was insanley hot that day and the water was perfectly cool and clear for a good swim. The beach has a unique lone rock formation similar to an Apostle rock in the 12 Apostles in Australia. I jumped off a cliff and enjoyed the Greeks soaking in the sun. I met a lovely greek "couple" that in the end allowed me to ride with them back to Batsi town, to chill out, shower, watch a movie online, walk the town for some Souvlaki, and watch the sun shine it's final beams at the beautiful white and blue town of Batsi. I've got to say, I am in love with the Aegean sea.

Off to Tinos I go!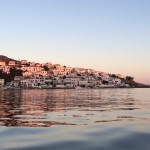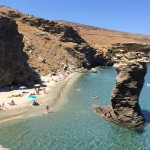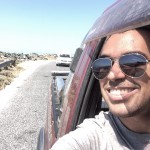 Tinos (The View of My Dreams)
When I mentioned Tinos island to someone in Andros, they were saying stuff life, "Dude, it's a religious island with nuns and stuff". I was like, "What the hell, seriously?". He was like "No haha". Realistically, it's not a sacret island. However, there is a massive church or monastery looking place atop the hill at Tinos town where people come as a pilgrimage in August. The ritual is to crawl from the sea to the church on your hands and knees.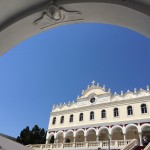 Anywho, aside from that, Tinos island resembles Andros based on it's landscape, but it certainly has it's own personality in a way. And I feel to understand and appreciate that, one must come to the island. Unlike the few other islands I have been to, both the Ionian and Aegean Sea, it was the Airbnb I stayed at that took me off of my feet and did something to my soul. Fortunately for once, my budget friendly intentions brought me to the most rich experience I have ever encountered. For the cheapest accomodation I could find between Airbnb and Booking. For $50 something for two nights, I find myself above Tinos town in the small village of Arnados. It's a bus ride or hitchhiking attempt away from the main town but jesus christ, this village and my temporary home was absolutely BREATHTAKING.
I don't think I have ever fallen in love with a stay as much as I did this one. First of, the village sits high up on Tinos island. My Airbnb overlooks the southeast end of the island, Mykonos island, Siros island, and if the visibility is good, you can see Amorgos, Naxos, Paros, Antiparos, and Kithnos islands. The town is exactly what you would see in a post card filled with white and blue, tunnels, faded red vases, plants, vines, all in a confined space within the side of an massive greek island mountain. The sunsets I have seen on this island have been the best I've seen in my life.
For the many islands I plan to visit next, I may encounter even better views, but for starters, this is by far the most incredible. When I say the Airbnb took me off my feet, i mean it was so amazing, as stubborn as I tried to be, I was beyond satisfied not letting myself venture off to explore so I could just stay here. I did manage to hitch a ride somewhere to walk around and explore some other villages. But at some point, my Airbnb pulled me back to my village just so I can just enjoy it all. All in all, as much as Tinos has to offer in other parts of the island, for a change, a single stay in a single place was enough satisfaction for me to just, stay here and fall in love.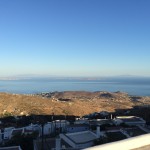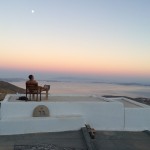 Siros (The Most Beautiful Port City)
Alike Tinos, I chose to stay in Siros fairly last minute. I decided to make a stop here en route to Serifos the week before arriving. Just like Tinos, I got lucky to stay in a fairly cheap AirBnb for 69 for 2 nights. Not bad for a studio in the middle of Ermoupoli town. Speaking of Ermoupoli, this city took my breath away at first sight. People had told me it was like Athens but smaller. I can't exactly agree with that but it is certainly a larger city than most island port cities. How this place stands out, it stands out completely different than your average Cycladic island.
It is not riddled with blue and white but instead numbers of warm colors, metal 1800's style railings, and window door shutters. The town sits on the coast and goes straight up to two hills resembling a Rio favela, only nicer, and of course safer. One hill has an Orthodox church while the other is Catholic. Walking the streets was beyond the most pictureque experience ever. Every street you walk and pass is a picture waiting to be taken.
Hitchhiking worked out well for me as I hitchhiked to the chosen beach of Delfini. I had no idea it was a nude beach until I arrived but that didn't bother me. After walking around some I befriended 3 Thessaloniki girls who offered to take me back to town and even treated me to lunch. I saved their beach bag from the wind haha. All in all, Sifnos was certainly a suprise and is yet another place I fell in love with in it's own unique way. WOW!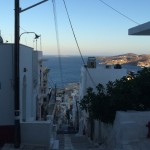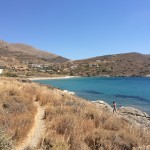 Serifos (Mountain Chora)
Honestly, Serifos and Sifnos islands were both curiousities to only for the face that their names are kind of similar. The S islands? Yea I guess that sounds corny. But I knew from the get go I wanted to visit these island just because, they are two more Greek islands to check out. Arriving from Siros via ferry boat was one hell of a nauseating experience. I have a strong stomach and can usually deal with strong turbulence and boat motion. But this ride was certainly the one time exception to that. Maybe it's because of my anxiety attack when I found my laptop on the floor after going out to take picture only to return to a laptop that won't turn on. Maybe it was the two gyros I ate right after embarking,
Arriving at Serifos, I was welcome by the beautiful Hora which sits high up above the port city on a hill with a church on top. My hotel was eh but it was a place to call home for two nights with decent walking distance to local beaches and Hora. First evening I "hiked" up to the very top of Hora giving me the most gorgeous views of the island, surrounding villages, islands, and nearby Sifnos. The whole way up was absolutely picturesque with blue and white paths and homes all the way up, like you would see in postcards. From the top, I caught an incredible sunset. Although the sun set on the opposite side of the island, the sky turned a beautiful blue and pink color over the sea.
For my full day, I walked over to a local beach with a church sitting ride above. As I walked the rocky edges of the coast, I realized that it was time to start purchasing a flight home. It was also here that I realized how lonely I was beginning to feel. As optimistic as I would love to portray this trip, realistically, the Greek islands in the middle of Summer is not a place for a solo traveler to be solo for some time. Anywho, after hitting the beach and swimming for a while, I met and befriended a couple from Athens who kindly invited me over to sit with them. Despite my feelings that day, It quickly vanished when I sat with them, sharing stories and laughs, listening to the waves and wind, and a nearby local playing a Ukelele. This moment right here, was perfect. Even though I felt isolated and lonely in Serifos, it was the connection with two great people who added to the memories on this great island.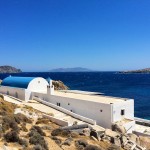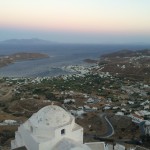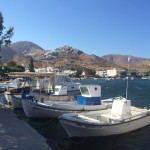 Sifnos (Church over the Sea)
After a short ferry ride from Serifos, I arrived in the port of Sifnos. I caught a bus to Apollonia, a fairly sizeable village in the heart of the island. I found a decent yet cheap hotel to stay at in this village but it worked out so well considering I was in the middle of the island. More leeway to chose where I want to go without breaking a sweat. First evening was simple! I walked around my village and up to a church sitting high up above Apollonia to watch the sunset and chill out.
Next day was just like any other ordinary full day on an island, wake up, eat, pick a beach, and go. My choice was Chrisypigi on the south end. I walked a bit to some more beautiful blue and white and found a place to hitch a ride. I caught a ride with two kind Greek women from Athens who went a bit out of their way to take me to my beach. I spent a few hours swimming and walking the path over to Faros. I thought my feelings were bad on Serifos. Sifnos was where I really felt lonely. Sadly, I didn't meet a single person for even a short conversation. I was on my own and didn't feel to good about it. I walked up to the main road to try and hitch a ride back into town and a kind French family picked me up and brought me back.
Considering how much time I saved on the way back, I decided to go on foot to the nearby Kastro town on the coast. My god, this place was insane. It's a town that sits high up on a hill right on the rocky coast of eastern Sifnos. I saved a location here and turned out to be an Orthodox church that sits on a small rock that juts out into the sea. The sunset here was out of this world, and this place was that one place I've seen on each island that will forever remain in my memory. Incredible.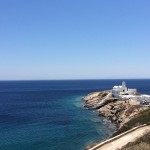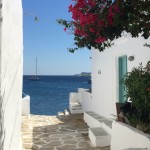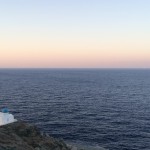 In the end, I finally redeemed my Delta Skymiles for a plane ticket back home. While this was a tough decision to make, it had to be made at some point on my journey. After much planning and research, I decided to stay 2 weeks longer than I could afford. While this means, I would spend more than my Euro budget allowed, this is okay. After all, I am in my dream country, living my number one dream of traveling the Greek island. Unfortunately, my grandparents backed out of a trip to Puerto Rico. But fortunately, that means I have more for Greece. Cheers

Milos (Island of Secret Adventures)
Traveling many of the Greek islands, there are three island that have my curiosity. While Mykonos and Santorini are much of the worlds high desires, I have a difference set of islands. My first one, is Milos island. an island in the far west of the Cyclades. Because I have been anticipating this island for so long, I stayed 3 nights instead of 2. After finding my hotel on foot, I set off for Plaka, a village that sits on a hill with a church and fortress at the top. Here I caught a beautiful sunset until the sun vanished in the horizon. I found a ride to Plaka, but getting back it was too dark to hitch. So I ended up walked for almost an hour. Oh well.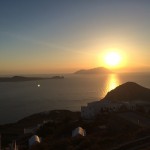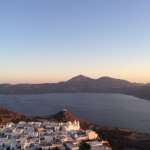 Next day, I lazily woke up a little late but psychologically slapped my self into making my day into a hiking day. Years ago, I had one day dreamed of hiking up the highest point of Milos. This day, I fullfilled that dream. After walking out of town, hitching 5 rides, one who was a dutch couple touring the rough parts of the island, and a 2 hour hike up, I found myself at the top of Milos island with insane views of the island and surrounding islands. It was so windy up there, I could barely stand straight. What I love about this island, is that it is basically separated in two. The east side is the the side with the villages, hotels, and paved roads. But on the west side, this is for adventurers like myself. A place to be one with the wild and away from the lovey dovey atmosphere of the whole island. Although there was a family in a Jeep that beat me to the top in their vehicle, after they drove back down, I had the whole mountain to myself. After having lunch on the quieter side of the mountain, i headed back down, playing with large rocks and throwing them down hills, and made it back to the main dirt road. Fortunately, I caught the only ride I could find back into town, to grab groceries, dinner, and back in time to enjoy the sun setting over the mountain i climbed right from my terrace. Awesome!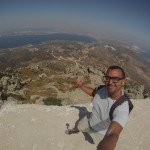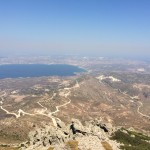 Next day, I woke up even more late. But this time, my body was sore as hell. Right when I got up, I realized that a chill day was necessary. I happily spend much of the day being a bum and eating a not so awesome lunch. But, in the early evening, I set off for a nearby beach I saved on my Google Maps. This place was out of this world. It litarally looked as if it came from the moon with a natural wavepool to swim in. This was by far one of the most unique swims I've ever experienced in my life. Walking the smooth extra terrestrial like geology of the rocks, I stood high up above the coastline to was the sun set behind the north tip of the island. I love Milos! While I missed out on many of Milos's wonderful beaches, I think this beach topped them all as far as experience goes. Woohoo!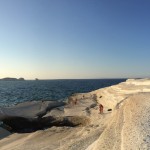 Folegandros (A Small Rocky Gem)
Folegandros was an island I first discovered as a means to get from Amorgos to Paros since there was no direct ferry straight to Paros. The only ferry I found was one to Folegandros and then to Naxos then Paros. I figured, if that is my only option, why not stop. Then my budget came into play and disregarded a visit. Then I met a lovely couple in Serifos on the beach who told me that Folegandros is a beautiful island. I'd easily trust Greeks when they tell me something about their country.
Although I still considered my budget, I did make a one night stay in Folegandros. Arriving from Milos mid day via Seajet2, I put my bags down, charged up a bit, and went to roam the Chora, an islands main town. My god! What put me at awe was the ledge I walked over to. And the closer I got, the more I realized I was way higher than I thought. Each step I took, I noticed the sea was very low and the wind grew stronger. The Chora sits high up over the sea with a beautiful orthodox church sitting even higher up over the town.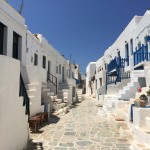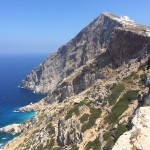 As ever other island I've been to, hitchhiking works here and got a ride half way to the beach on a scooter with a kind Italian dude. I managed to make my way to a local beach to soak in the sun and swim in some of the large rocks along the coast. I managed to find a ride back into town with a cool Albanian dude to charge up some more, shower, and chill out for a bit. At the end of the day, i made my hike up past the church to the top of the mountain and caught the most unbelievable sunset.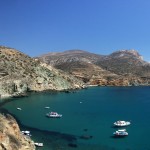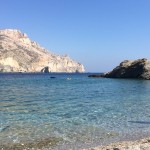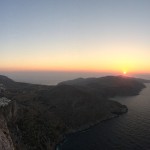 In my 5 months of travel, I had yet to have a moment to shut everything out and just think. I had this moment here! I not only thought about all the hard work I put forth into being here, I thought about the many years I suffered through depression. The many years I fought to escape the prison of my own mind. I remembered the miserable and unhappy person I used to be. To looking at myself now, this free-spirited, soul, who's happiness stretched beyond imagination. A spirit so strong it's touches others. In the end, no matter what I went through, all that matters, is where I am, and the fact that…I am here….I made it!
Naxos (The Largest Cycladic Island)
Naxos is one of the largest islands in the Cyclades and unfortunatley I only limited myself to the port town consider the little I have left in my budget. Otherwise I would have spent several days visiting some villages and ruins. But personally, I was satisfied with the day and evening spent in the beautiful old town of Naxos. The best thing about staying in Naxos was the simple fact that I finally got a break from the loads of money spent in hotels in the previous seven islands. And for once, I was in a place where I could meet other people which I did. No more lonliness for me.
After settling in the hostel, I roamed up and down the city center and citadel where there is a beautiful moxture of Cycladic and Italian influence from when some of the Cyclades were its own nation. On my way down, I randomly stumbled upon an abandoned Italian styled home. Considering I love urban and suburban exploration, I couldn't resist the urge to walk in and check the place out. Suprisingly, it was decked out with beautiful ceiling and wall designs with old furniture from the 50s, 60s, and 70s. From there I walked to the nearby beach and to the iconic Portara, a remnant of the unfinished Temple of Apollo to catch the sunset there. And in the end, I had a brew with some travelers on the beach. While I wish I could have ventured out to the rest of the island, I was satisfied with the beautiful port city.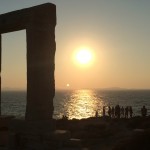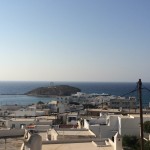 Paros (Best Hitchhiking Island Tour)
The neighboring island was yet another island where I could travel on a budget due to the prescence of a hostel. And alike, Naxos town, this was another opportunity to meet othere people. Unlike Naxos, I spent an extra day on the island to give me more time to, do whatever. Despite being tired the first day, I simply decided that I wanted to hitchhike the whole island. I set off for the edge of town and successfully found rides. I made it to each end of the island including two villages in the middle of the island. Because of starting late and it getting dark, I only managed to see 2/3rds of the island. But my last ride into port was incredible. A nice Greek guy picked me up on his scooter and we rode towards the sunset that was happening over the port town. The most amazing thing I've ever seen in my life. That night i was persuaded into going to the only club, got slightly drunk, and had terrible sleep.
Because fatigue caught up to me like no tomorrow, the next day I had a hard time getting myself moving. But, I did manage to hitchhike my way to port to catch a ferry to Antiparos. While I decided not to visit the popular Agios Giorgios, I walked over to a closer much more quiet beach to have a nice swim. Later in the day, after I made it back to my hostel, I convince a British girl to join me on a hitchhiking journey to the town I didn't get to see, Naoussa. We successfully made it to Naoussa and back and the joy in her eyes really made me happy and proud that I not only got to enjoy an experience with someone other than just alone, but that I could open up a new way to travel with someone else. Altogether, this island was incredible due to the many people I met on the road as well in the hostel. In the end, I've been told I look Greek and have a great accent. woohoo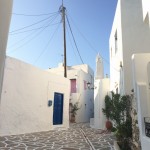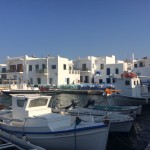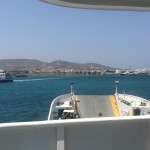 Schinoussa (Everyone Knows Each Other)
Oddly but fortunately, I only heard of this island through an Instagramer that I have been following for a year with the username of the same name. The islands in one of a handful of islands in the Smaller Cyclades group. Exactly what it implies, smaller Cycladic islands. Just like Naxos and Folegandros, I only planned one day on the island due to budget reasons. But unlike the other two islands, Schinoussa is small enough to see in a day. Not exactly every single beach but I literally walked one end to the other, swam in the sea, walked back to catch a sunset in a matter of 5 hours. This is obviously including taking photos of the Chora, beach, sunset, and all the videos and pictures in between. Otherwise, no photos would mean and easy walk to each end in an hour.
What I loved about Schinoussa is that unlike almost everywhere I have been, locals outnumber tourists, by a pretty huge majority. And another thing I love, is that it reminds me of home where many people know each other. In this case it's much smaller surrounded by the sea. Whether I was at the beach or doing the island on foot, not a single person hesitated to smile and wave back at a friendly traveler. This was completely refreshing to the heart and soul and made me insanely happy. There are a number of other smaller Cyclade island I would love to visit, but hitting Schinoussa, an island where noone I've met knows where is, was perfect enough choice for me. Thank you fellow Instagrammer, who even gave me suggestions while I was there.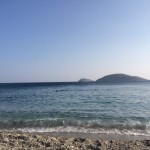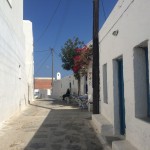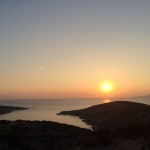 Amorgos (My Favorite Island)
Amorgos for almost a year has been my number one anticipated island in all of Greece. And I left the island remembering it as my favorite island in all of Greece. I chose to stay 3 nights in Amorgos for this reason and have zero regrets. Firstly, the island is insanely beautiful with a beautiful Chora, coastal towns, and mountains that shoot straight up. The island's Chora is one of the most beautiful I've seen in the Cyclades with confusing paths that allow you to easily get lost.
The most incredible thing I have seen was the nearly 1000 year old monastery that sits on the side of a mountain yet overlooks the Aegean Sea. It's like something out of a fantasy movie or book. The island unlike other Greek islands is not crowded with tourism not commercialism. This leaves it to be insanely traditional despite how insane tourism can be here. But the best part of my journey to Amorgos was not just the scenery. I met a cool guy and girl on the boat here while I was traveling to Schinoussa. Eventually I messaged them and ended up spending two awesome days with them and the rest of their friends. One of them even has a home in Chora whom I spent time with having drinks and dinner.
I joined them at a cafe in Chora and eventually tagged along swim with the most incredible view of the north of the island and the old Monastery on the hillside. The third day I walked up to the monastery and they eventually picked me up to join them on a beach day in the south at Mouros beach. Here we spent tons of time cliff jumping and cave swimming in such a way I will never forget. We had an amazing dinner at the cafe above the beach eating all kinds of dishes and drinking Greek Ouzo all payed for by one of the guys.
Sadly, I didn't join them late that night because I was tired. Same for the beach they had planned to go that day since I had to check out and had all of my bags, but upon arrival via bus to Katapola port from Aegiali, they were all sitting there together waiting for two of their friends. I was incredibly happy see them all and say a proper goodbye after such an incredible time on the island. Amorgos is incredible and certainly lived up to it's expectation, at least in my head. But the Greeks I spent time with here, this is a grand memory I will never forget.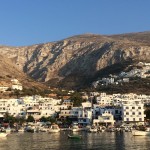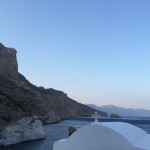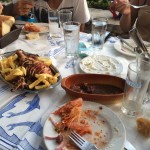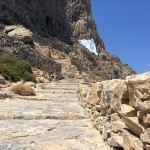 Thira (Santorini) (A Gem of the World)
World famous Thira, BKA Santorini. As much as I wanted to be on this island during any month of the year but August, this is the month I ended up here. Arriving here from Amorgos but certainly a culture shock. not because I'm on a volcano, but because of the high levels of tourism and hordes of people from all over the world. Although this is a yearly thing, the roads still cannot handle all of this. I stayed in the infamous Oia town only about 50 meters from the iconic blue done churches. I made photos of my own, the same ones you see of Santorini online or in magazines.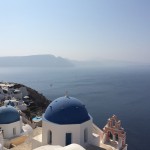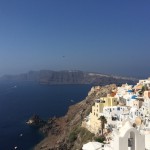 While I couldn't help doing things around hordes of people, I still managed to really enjoy this island in August, even if I was there for 2 nights. Despite having lack of information and having doubt, I managed to hitchhike to the south of the island and halfway back. I made my way to both black and red beaches (sadly not the white one) for a nice swim and just south of Thira. The best most unforgettable part of this trip was the non traditionally amazing sunset I caught on the island. Did I catch the sunset in Thira or Oia, fighting for a spot to stand? Nope. Earlier during the day, I sthumbled upon a half finished / abandoned hillside resort. I caught the sunset here. It was completely empty with noone there but me. It was several stories down of half dome roofs, terraces to be, and the skeletop of what could be a parking garage or reception.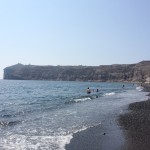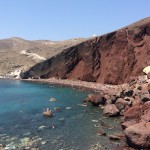 While I saw many people at the cliff above looking down at me like, WTF?, I still enjoyed the sunset here to myself. The best part of it also was, I could see the ENTIRE island from here. From Oia down to the southern most tip, volcano as well as the western island. After taking loads of photos and videos of the whole place and views, I sat on one of the half domed roofs for over an hour and watched the sun until it disappeared. How's that or non traditional? After I left, I found a bumpy ride into Thira to catch a bus to Oia since it was getting really dark.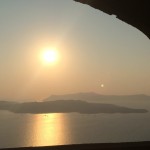 One thing I have learned in the past several years of travel is that, expect to be dissapointed when you arrive in a destination that is known to have too much hype. But one lesson I've learned on my own, is not only to expect that, but anticipate finding a means to enjoy the destination in your own way that seperates your experience dramatically from the rest. This is what i did in Santorini, and I did it without a plan. As I said to myself while deciding where to catch the sunset, "Just go with the flow." Going with the flow has brought me to the most non traditional yet most incredible sunset I have ever seen in my life. Thira island is without a doubt a gem of the world, and forever remains a place in my heart.
Crete (The Big Island) (Blog Coming Soon)
Return to the Ionian Sea
Zakynthos (The Dream of all Dreams)
The original "plan" after Crete was to hit Karpathos and Rhodes then fly home from Athens. But because seeing Navagio beach was a number one dream of mine for many years, this was something I could not pass off. I would have regretted it. So after a long overnight journey to the mainland, a few days in Corinthos, and Patras, I made my way to my final destination after 6 months in Europe, Zakynthos.
With only two days left before a flight home, my time was limited on the island. So unlike the rest of my time in Europe, I decided that I needed to rent some for of transportation. Instead of a quad or scooter, I found myself riding Zakynthos on a motorcycle. To finally live my dream, I aimlessly drive up through villages and coastal towns in order to find the location to catch a boat to my dream beach. After 2 hours on the road, 12 Euros, and a boat ride later, I finally found myself on the infamous Shipwreck Beach.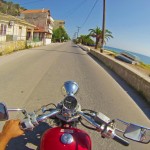 Although it was really crowded, the surrealism of the place and the fact that I made it filtered all of that out.On a really hot day, the shade of the cove keeps the water insanely refreshingly cool. So refreshing, I remember it like I am still in the water. After successfully making it here, I made my way by boat back over to my motorcycle and used my directional skills to find my way over to the dream view I've been looking forward to seeing for many many years. After settling into a nice spot, I found myself living the dream of all dreams, overlooking my dream beach and catching an incredible sunset over the Ionian Sea.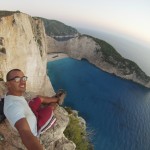 __________________________________________________________________
Although I'd like to say, "that wraps up my blog about the Greek Islands", this voyage deserves so much more than that. This was beyond a dream come true. This was living a dream only that I never woke up. The endless beauty I've seen and the experiences I've had on these islands were incredible. Not to forget to mention, that each island has it's own personality that stands out from the rest. And if that's not the case, you will find yourself having a unique experience on an island that another island may not offer. In conclusion, Heaven on Earth does not exist, but there are pieces of it. Well, the islands of beautiful Greece, claims the biggest chunk of heaven. I am beyond grateful and blessed to have lived this incredible dream.
Until I return to Greece, cheers!