Hitchhiking: A First Experience, in Romania
April 2016
I have been traveling for many years with several trips to new places every year. Like most Americans, the thought of hitchhiking is always negative. It's almost like telling someone I am staying in a hostel and getting the "you're going to die" reaction. Hitchhiking is not exactly on the same page as far as that example goes but it does make sense. Hitchhiking actually was a common thing to do in American many years ago but unfortunately murders and the press gave the travel option a bad rep.
As far as this trip goes, two months so far in Europe, I have strayed away from hitchhiking pretty strongly. Ever since I landed in Istanbul, I have been on a pretty intense couchsurfing binge. And ever since I landed in Istanbul until now, the heart of Romania, every single person has suggested hitchhiking. Each person has tons of hitchhiking stories and so far almost all of them are fantastic with the occasional one or two weirdos. Some of these couchsurfers even try strongly persuading me. But my response has always been no.
Crossing into Romania was a ridiculous trip on it's own and really pushed me to include hitchhiking as an option, even though I still refused to. Romania was the country where I finally used BlaBlacar, a rideshare app used to help drivers get some cash flow for empty seats on a long or short commute. I used it four time across Romania and had incredible experiences. But still, I won't hitchhike. It wasn't until one week into Romania, in Turda returning to Cluj where I considered it. I felt confident in doing some hitchhiking. But as soon as I put my thumb out, a intercity bus came. And right before, a bird shit on my chest. That's definitely not a good look for hitching a ride.
A rideshare to Sibiu, and two trains later I find myself in Brasov, the infamous city at the foot of the mountains with a beautiful town center. Everyone told me I should visit Brasov because they loved it and can agree and see why. It's a beautiful big town close to the mountains. Fortunate for me it was nice an cool, especially good for a nice break from the direct sunlight. On one full day, I used it wisely to visit both the Bran castle and Rasnov fortress.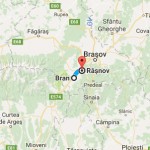 I wasn't too impressed with Bran since it looked so small and overpriced, not to forget overcrowded with annoying hoards of kids. After walking around the castle on the road and a nice walk around the small village museum, I felt really confident about hitchhiking, especially since I had no clue where the bus picks you up. So I walked north towards Brasov at the edge of town, found a spot to be seen well, and after a month of fear, i killed that fear by putting my thumb out to drivers. Not even 15 seconds later, a Romanian man in a heavy duty pick up truck pulled aside to pick me up. I can remember so well, how happy he was to pick up a smiling tourist, who he later found out to be American which made him even happier.
This first experience was a short 11 KM, 20 minute ride basically from village to village. But it was incredible and broke my long fear of hitchhiking. What made him even happier was that I was his first hitchhiking ride. Despite the language barrier, he understood me, and saw how honored he felt. It was an incredible ball of happiness between two strangers who became friends for 20 minutes. Fortunately he was stopping to get a haircut in Rasnov and dropped me off at a good walking distance from the Fortress. I shook his hand, said thank you in Romanian, and taught me some words in Romanian. It was an amazing connection between us and can see how many people have such great stories with hitchhiking. Of course you have the one or two awkward situations, but regardless it an incredible experience making friends on the road. I discovered another means to travel.

Yay me!
December 2016 : As I reflect on my amazing 6 month journey in Europe, I am forever a changed traveler. Since that time in Romania, I have hitchhiked about 50 additional times in Slovenia, Croatia, Bosnia, Montenegro, Kosovo, Macedonia, Albania, and finally Greece. One mishap being on a not so traveled road and another in mainland Greece where hitchhiking has died. Otherwise, I have had some of the best experiences meeting amazing people while also saving money. It has changed my world of travel and expect to continue hitchhiking wherever I go.

Thanks to Romania and thanks to that awesome dude in the photo below!