Beautiful Kotor Bay, Montenegro
"Open your eyes and see the beauty!"
Most people who come to Europe check out the commercial destination in the west, missing out of the insane beauty of the Balkans. My first visit to Europe brought me to Central Europe. Hungary, Slovakia, Austria, and Czechia. How's that for traditional. My return did bring me to The Netherland, Belgium, and Luxembourg, a choice made for my ex-girlfriend and turning out to be an incredible choice for me. But the Balkans is where I spent most of my time and my god, I couldn't get enough. Spending two months in all of the former Yugoslavia means I did spend some time in Montenegro, and that is what I did.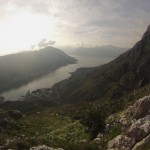 For those who know about Montenegro, the first thought may be Kotor Bay, a destination I would have regretted missing journeying throughout the Balkans. This place is INSANE! It's a sight that is hard to take in. Majestic is word that pops up in my mind every time. If anyone has traveled the fjords in south New Zealand or Norway will find that the geography here looks very familiar. Minus the snow, Kotor Bay is a beautiful mashup of history with it's historic town of Kotor, touch of the tropics with a refreshing swim in the bay, all surrounded my high mountains that shoot straight up into the sky.
I stayed in two places in Kotor Bay but rode throughout 80 percent of the bay. Here is what I did and is a must do when traveling here.
Perast
Hands down one of the most memorable stays in my travels so far is my one night stay in the picturesque town of Perast. In the center of Kotor Bay is this tiny historic village with views of just about most of the bay including the inlet where the occasional cruise ship will pass. Although there are many restaurants and cafes in town, I enjoyed cheap ham and cheese sandwiches at the vendor in front of the town church, sitting at the edge, and taking it all in. The reason why I stayed here was:
1) I wanted to experience something other than just Kotor town.
2) The islands at the center of the bay were a short boat ride away.
In the center of the lake are two islands both with churches, one being artificial made of rocks. For $5 Euros you can take an amazing boat ride to these islands with incredible 360 views of the entire bay, on or off the boat. Had I spent more time and made friends with locals, I could have maybe gotten lucky to enjoy a brew, music, and cannonballing into the bay on a boat. Hey, there is always next time.
For US standards, lodging is dirt cheap in Perast. Ranging from 15 Euros and up, you can have a nice and decent room, some with a great view of the bay. For me, I paid 40 Euros in a really nice room, with a small kitchen, spiral stairway up to a bed and bathroom, a small dining room table a window that opens up to half of the bay including the islands I mentioned. Amazing!
Kotor
Hitching a ride from a friendly Serb from Belgrade, I arrived in Kotor post storm with clouds hugging the mountains above town. Coming from Perast, I was dissapointed in the hordes of tourists flocking off of buses and a cruise ship, otherwise Kotor is a beautiful town. Roaming the maze of the streets gazing at the evolution of architecture from the changes of rule throughout the centuries. Venturing away from the noise, I proudly lost myself in a seemingly secret path to a small valley leading up to a tiny waterfall, with many places to take a cold dip. I called this my happy place!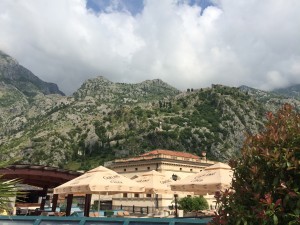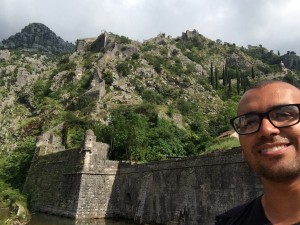 Above the town is a fortress that overlooks Kotor and part of the bay. But If you have the courage, motivation, stamina, an leg muscles, GO FURTHER. Aside from being cheap (financially strategic) in paying to enter a fortress, I decided to have my own few for only the cost of sweat, heavy breathing and my Ipod on shuffle. Zig zagging up for about 2 hours brought me to my second happy place. After setting my bag down and catching my breath, I took a seat and took in the view of a lifetime, overlooking the surrounding mountains, the tiny dots of tourists at the fortress who thing they have a great view, all of Kotor town, and half of the bay. And due to perfect timing, I caught one hell of a sunset.
A Taste of Crna Gora
I am proud to have seen so many incredible places so far on this grand journey, but Kotor Bay is surely up there on my seemingly endless list. It's not all Montenegro has to offer. You can voyage down the Adriatic coastline down to Ulcinj like I did. OR, head inland and get a taste of heaven in the mountains, what I need to do next time. Anywho, Kotor Bay was surely one hell of a highlight during my time in Montenegro, and for those who visit Montenegro, if you miss out of this, you will surely regret it.