My NZ Summer Home // Picton & The Marlborough Sounds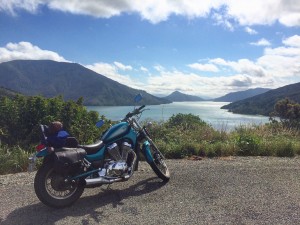 In the world of travel, I will fulfill having the courage to leap into the unknown, connect with people I have yet to meet, see beautiful places out of ones dreams, and have adventures of a lifetime. I don't know how long I will freely travel, but at some point I will not only need to take a break, but I will need to settle down and earn some travel funds. Finding a place to live, find a job, and call a place home. These were all thoughts and ambitions of mine before I hopped on that flight, done what I had done with the anticipation that I will stop and call a place home. Picton, New Zealand, the heart of the Marlborough Sounds and the gateway to the South Island was that very place, opening a new chapter in my travels as well as, my life.
Three amazing months of travel in New Zealand as my ultimate reward for nearly a year and a half of freely roaming the world as well as my reward from achilles rupture recovery. Two and a half of the months we well spent traveling north of Auckand to Cape Reinga, back down through Waikato, Taranaki, Taupo and central North Island region, Coromandel, and back to Auckland. And ten incredible days on holiday with my family traveling as north as Auckland's North Shore down to Milford Sound and Te Anau. It was those ten days with my family that allowed me to subconsciously decide where I will call home, I just didn't know where yet.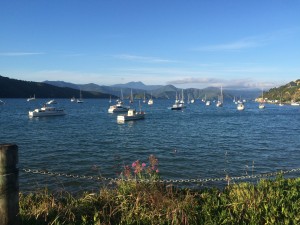 After my families' departure, I hopped back on my motorbike across North Island en route back to South Island, only this time, with intentions of finding work and calling a place home for the first time in my life. Ultimately, I wished and hoped to live and work somewhere central in South Island like Greymouth or Hokitika. Hell, even a small town in the geographic center of Te Wai Pounamu (Maori for S.I.). I had an offer for woodworking and paneling in Christchurch which is to no surprise thanks to the continuous rebuilding efforts from the CC earthquake, but this wasn't something I was all about. I wanted a job that could help me grown as a more versatile person, something that this job nor fruit-picking would do for me. I was not looking for just a paycheck.
For the second time, I crossed the Interisland ferry in a timeframe of only two weeks, only difference, no family plus a motorbike. Coming from North island to South island is an experience on it's own not because of the ferry itself. Or crossing the violent cook strait, gazing at the rugged southern coast of the North Island. It's slowly drifting into and through the gorgeous Marlborough Sounds. There was a familiar energy I felt when coming back through here, something I felt two weeks ago that was much stronger. I arrived in Picton with my motorbike with not a single plan but to find the nearest campground and what my next steps were. It was time to find work. I needed and wanted it!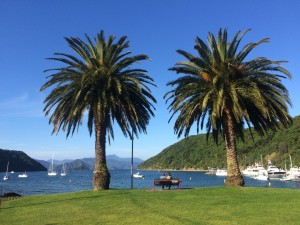 The next several days were the days that allowed me to find the most beautiful opportunity to call this place home finding my ultimate dream job. Camping out at Whatamango gave me a different view of the sounds than before, but the ultimate experience was the off the grid couchsurfing/ camping I did with a mother and three children in a different sound. A three hour ride brought me to an isolated "village" of possibly a population of maybe 10 ish people. Camping out here allowed me to fully connect with the sounds in a whole new level. Upon returning to Picton and being offered a job in a hotel, despite my desire to be in the heart of South Island, I ultimately made my decision. This was going to be my home!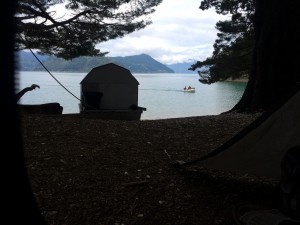 The Job
The Foreshore, multiple cafes, Irish Bar and Oxleys, High Street, Fresh Choice, the ports for the Blue Bridge and Interislander Ferries, coathanger and marina. All icons of this magnificent place I call home. In the middle of all this, is the Picton Yacht Club Hotel, not only a place of employment for me, but the open door for several things I've craved to learn and get better at. That is bartending, serving, and making  damn good cups of coffee, the right way. What I though would be a receptionist job, would end up being a bartending job, the very job skill I desired nearly all of my adult life because I couldn't make a mixed drink for shit.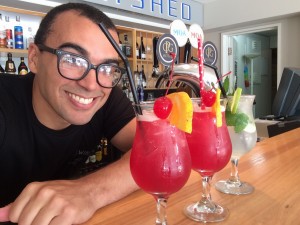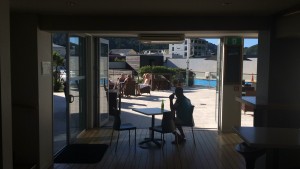 For about two whole months, I went from only knowing how to pour beer, to making top notch cocktails and understanding spirits entirely. Understanding the differences of rum to spiced rum, liquor to liqueur, what vermouth is, garnish styles, measurement between ML and OZ, and pouring by counting methods.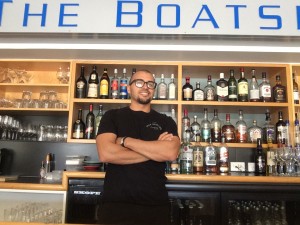 Towards the end of my employment, I was utilized more so at the restaurant including group event lunches and dinners. This allowed me to excel in my inner serving skills in a top notch ish restaurant while find comfort with my interaction with guests. I learned how to display and pour wine properly, taking orders from the guest to the kitchen, silverware order, and which side of the guest to place the meals.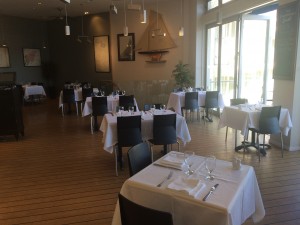 And last but not least, finally working behind an expresso machine. Understanding coffee and how to properly make the different types of coffee has been a huge desire of mine for the past two years since I started drinking. And while bartending and serving desires surpass that with time, there was nothing I wanted to learn more, than becoming a barista. One of the first things I mentioned to employers was that I wanted to learn how to make coffee. In three months, I learned what each cup of coffee entails, how to properly make it via extraction, milk steaming, and finally, earned starter skills at decent latte art.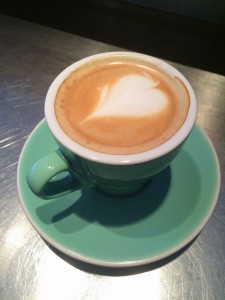 Living
In my honest opinion, hostels just don't do it for me anymore. I guess I got way too spoiled with Couchsurfing and the luxury of airbnbs. Hosteling just isn't my thing anymore. I don't even know if it ever really was. After accepting my job offer, I stayed a night in a hostel to give it a shot again and left a sour taste in my month. At the end of the day, I accepted a $165 a week private room with a local in town via the site TradeMe. Strong wifi, privacy, good shower, prime location, full kitchen, laundry, and an extremely awesome and helpful roommate all were prime reasons why my first living experience was as amazing as it was.
The Town
Picton is a unique place. It's the gateway to the south and the heart of the Marlborough sounds. Coming from New York (New Jersey really), people always ask me how I went from that to this. And my response is, Picton has the small town charm I've grown accustomed to living in a small town in the Carolinas. But when the ferries come in and before they leave, the world comes into this small town, giving it the essence of a big city full of people of different backgrounds that I've had the pleasure of meeting at work.
The Energy
Something brought me to persuade my family to stay in Picton for a night. And that we did! But upon my return, that very feeling existed in a new way allowing me to call this place home for three months. What it was was a mystery for me until I made a two day trip to Golden Bay on my days off. I had been in the sounds for two months with short trips into Blenheim on occasion. But I never really left the sounds. When I did, I realized how much I missed it as I got further away. As I could see the edge of the sounds from Golden bay, I missed being there and my home. Upon returning, I felt a ball of joy to see Picton harbor and that familiar view from the beautiful foreshore.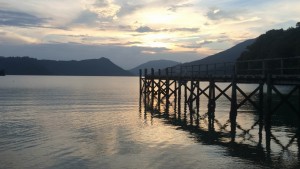 Thats when I found the answer to my question. It's the energy here! I feel it when I wake up, while I work, and before I sleep. When I gaze at the sounds from my bar and restaurant, watching the Interisland ferries arrive and depart every several hours from the foreshore, or even watching the train begin its journey from my backyard. Weather it's the swift but cooling breeze from the calm sea or the cascading mountains. Or the Polynesian history that remains in the earth in this region, there purely is an energy I feel every time I come here. It's allowed me to fulfill some lifelong dreams to even simply living comfortably day by day with a wonderful roommate.
————————————————————————-
To conclude with one more week to call home here in beautiful Waitohi, I say this. Although I have spent only three whole months here, including passing through for a night with family. This will be the very place I remember where I yet again evolved as a traveler willing to leap into a new way to continue traveling. Taking on responsibilities and job dutues that will make me more versatile as a person. After all, knowledge IS EVERYTHING. Picton and the Marlborough Sounds will forever in my heart, be my New Zealand summer home. Or simply just, home.